Samsung Gear S2 Hacks – 15 Hacks That Most People don't know
Samsung gear s2 hacks. The Samsung Gear Smartwatches have been one of the most popular selling items Samsung has sold.  The sales for this product line almost exceeds the famous Samsung Galaxy cellphone.  I managed to get my hands on one of these and found some unknown hacks that you can do with it.
You can purchase this awesome smartwatch on Amazon:
CONTROLLING YOUR CELLPHONES MUSIC FROM YOUR SMARTWATCH
To do this you will need to go to your applications, scroll around until you find your music player.  Tap the music player, you can then change your music there.  Moving the scroller backward or forwards will change the song.  You can also tap the play/pause button to control the music.- samsung gear s2 hacks
ANOTHER WAY
You can also swipe your screen down and tap on the icon that says playing like the picture below.
Once you have tapped that it will take you directly back to the music control APP player control screen.
EASY SAMSUNG HEALTH APP ACCESS
Instead of having to go into the APP from your smartwatch you can just swipe your face down.  You then just need to tap the workout and it will open the APP for you.
THIS SMARTWATCH HAS A WATER LOCK MODE
You most probably know that this watch is waterproof and you could use it when you swim.  But you probably did not know that it has a water lock mode. – samsung gear s2 hacks
WHAT IS WATER LOCK MODE FOR?
The water lock mode is used for when you go swimming.  The mode is so that if you accidentally touch the screen it won't take you to another APP and prevents touch entries on the watch.
HOW DO YOU ACTIVATE THIS MODE?
Swipe down the quick setting from the home mode or you can click the home button.  You will then need to navigate to the settings application and tap that.  You then must scroll down to advanced, tap that and then scroll down until you see advanced mode.  Once you have tapped you can turn the mode on. – samsung gear s2 hacks
Once the application is enabled you won't be able to do anything on the screen by touching it.  The bezel will still be able to be used though to scroll around.  This will prevent you from sending an accidental message or something to that effect.
If you've ever used a smart watch any touchscreen device in the water you'll learn pretty quick that you get a kind of sporadic touch recognition kind of all over the screen. Turning this on this prevents all of that.  I use that feature almost always when getting into the water.  If you are a parent you will also find that using this feature is GREAT if you are changing diapers as there is so much touching and moving around – God forbid you might even get some kid piss on it 🙂
With previous watches, the kids have often sent accidental messages or called someone without me knowing – so this is a GREAT feature!
To get out of this mode all you need to do is press the home button again for a few seconds. – samsung gear s2 hacks
WATER EJECTION MODE
Once you have pressed the home button you will notice the watch makes a little noise, this helps push out any water in the speaker port.  Apple watches also have had this feature.  Alot of the time you will notice that the noise was not enough to push all the water out.  If you notice the speaker still sounds funny you can just put the water lock on again and then off.  The sound will go again pushing more water out.
If the above still does not work you can then scroll down one more time to the water eject mode. – samsung gear s2 hacks
Tap on the eject water and the tap play sound.  The same sound will then play over and over until you stop it.  You can keep this running until the speaker is loud and clear without any crackling.  Doing it this way is a lot easier than putting the water lock mode on and off all the time. – samsung gear s2 hacks
AN EASIER WAY TO GET TO THE WATER EJECT MODE
Another thing that most do not know is that the quick menu is customizable.  All you have to do is a long press on the screen.  After that, you can customize any one of the menu items.  You can then select one of the menu items by clicking on it and then delete it.  After that, the watch will take you to select another quick menu item.  You can then scroll and select the water eject mode. – samsung gear s2 hacks
BLUETOOTH HEADSET MODE
In the same way, as I explained to you how you can change to water eject mode to the quick menu you can do the same for the BT headset.  SO if you are going for a run and you have a Bluetooth headset you can just press on the quick menu item and it will active that Bluetooth.  The Bluetooth will then scan for any Bluetooth items to connect to.  This is a really fast way to connect without you having to go through all the menu items. – samsung gear s2 hacks
BATTERY MANAGEMENT OPTION
The battery management option is just what the wording says, it is to manage your battery.  You can select between battery saving mode and default mode.  The power savings mode will give you longer battery life.  The battery management mode also has an option to have a watch only mode.  This will turn you smartwatch into a watch only.  This watch only mode can give you up to 40 days of battery life – WOW. – samsung gear s2 hacks
FIND MY PHONE MODE
Oh yes, I think we all know how frustrating it is to lose your phone.  This feature is much needed – thank you Samsung!  Once you tap on to find my phone your cellphone will start ringing even if your cell phone is on silent – VERY COOL. – samsung gear s2 hacks
SCREENSHOT YOUR SMARTWATCH
Taking a screenshot of your smartwatch might be something you might want to do for whatever reason.  All you need to do is hold in the home button (bottom one) and swipe the screen from left to right at the same time you hold the button in. – samsung gear s2 hacks
HOW DO YOU GET TO THE SCREENSHOT?
Press the home button and go to your APPS.  Select your gallery and in the corner, you will find the screenshot you took.  This feature is useful if you want to share the steps you have taken or the different exercise metrics that the watch has recorded. – samsung gear s2 hacks
HOW TO SEND THE SCREENSHOT?
Once you have selected your picture you will then have to tap on the three dots on the side and then turn the bezzle and send to phone.
HOW DO I PLAY A PLAYLIST
A lot of users of this watch do not know that there is an option to access the playlist from the music APP.  Once you are in the music APP you just need to swipe up on the screen from the bottom and you will be taken to the full music playlist.  You can then select the song you want or you can go through the playlist from your wrist.
You will just tap on the song you want to play and it will play.
CLICK HERE TO CHECK PRICE ON AMAZON
The product is available on Amazon – see this link ===> Samsung Gear S2
The Best Smartwatches of 2019
THE BEST SMARTWATCHES 2019
Best smartwatches 2019.  There are loads of different smartwatches, ranging from the really cheap ones purchased from China to the likes of the Apples and the more expensive smartwatches.  The list of smartwatches are endless and the decision to purchase the best one can be daunting.  Especially if you looking for a specific watch to suite your needs.  In this list we go through the best smartwatch range for 2019.
We hope this makes your next smartwatch purchase easier.  I will go through my top 10 favorites and at the end, I will choose the winner. Below is the list of my best smartwatches.  🙂
APPLE WATCH SERIES 1
Apple has always been at the forefront of technology, always coming out with top class gadgets and computer items.   The same goes for their smartwatch range, we rarely can find items that are of better quality. Their design and attention to detail come through with every smartwatch they have put out on the market.  The amount of research that goes into the new features is eye-opening.  The excitement of opening a new recently purchased apple item or Apple smartwatch is almost incomparable in comparison with other brands.  We look forward to many more great smartwatches from Apple over the next few years.
The Apple Series 1 have 5 different options to choose from, the options available are:
38mm Space Grey Aluminium Case with Black Sport Band
42mm Space Grey Aluminium Case with Black Sport Band
38mm Silver Aluminium Case with White Sport Band
Silver Aluminium Case 42mm
Gold Aluminium Case with Cocoa Sports Band  42mm
Rose Gold Aluminium Case 42mm
ARE APPLE WATCH SERIES 1 WATERPROOF? – BEST SMARTWATCHES
The Apple Watch Series 1 has a water resistance rating of IPX7 under IEC standard 60529.  This meaning that the watch is splash proof but cannot be submerged under water.  So wearing your Apple watch when it is raining or washing your hands is fine but unfortunately nothing more :
WILL APPLE WATCH SERIES 1 WORK WITH IPHONE 8 – BEST SMARTWATCHES
Yes, the Apple Watch Series 1 will pair the Iphone 8.  The Apple Smartwatches can pair with most Apple iPhones and pairing them up is super easy.
HOW MUCH ARE THESE WATCHES? – BEST SMARTWATCHES
The Apples Series 1 price starts at around $189 and ranges up depending on the type purchased.
APPLE WATCH SERIES 1 SPECS
The watch case is made of Aluminium
The size is 38.6mm x 33.3mm x 10.5mm. – BEST SMARTWATCHES
GARMIN FENIX 5 RANGE
Garmin, another GREAT name for anything wearable, this brand also comes out with top class products that are up there with the best.  The Garmin Fenix 5 is equipped with a pulse meter,  barometric altimeter electronic compass, accelerometer and speed sensors.  This device also offers you the possibility to control your smart home, like dimming the lighting or controlling your TV. – Best Smartwatches 2019
IS THE GARMIN FENIX 5 WATERPROOF AND HOW IS THE BATTERY LIFE?
The Fenix 5 smartwatch can go underwater to a level of 100 meters, this is very impressive.  And just for that reason makes me fall in love with this watch.  Not that I love diving or swimming. But because it just makes me feel secure in knowing that come to the rain, snow or whatever this watch will still work.  The Fenix 5S battery will last up to nine days in smartwatch mode and for 14 hours in GPS mode.  The Fenix 5 will last for two weeks in standard mode and will last only 24 hours in GPS mode.- Best Smartwatches 2019
CAN GARMIN FENIX 5 PLAY MUSIC
The Fenix 5 and 5s does not have any inbuilt storage that would be enough to be able to store any music.  The Fenix 5x does have 16 GB of storage but unfortunately does not have the software that enables music to be played. – Best Smartwatches 2019
IS GARMIN FENIX 5 TOUCH SCREEN
The Fenix does not have the touchscreen feature as Garmin say that it would be impractical to offer a touchscreen for athletes or outdoors people.  Also, wet weather would make it impossible to use if it was a touchscreen.  This just shows us how Garmin has thought so carefully about every feature this watch offers. – Best Smartwatches 2019
HOW MUCH DOES THE FENIX 5 COST
The watch is very expensive starting from $449, but is totally worth it if you are an outdoors type of person.
FENIX 5 FEATURES
The lens material is chemically strengthened glass or sapphire crystal.
The weight is 2.4 oz or 67g.
The battery life is 9 days.
The strap is either silicone, suede or steel. – Best Smartwatches 2019
FENIX 5S FEATURES
The battery life will last up to 2 weeks in smartwatch mode and for 60 hours in Ultratrac mode.
The display resolution is 240 x 240 and will always be visible even in the sun 🙂
The memory or history is 64 MB. – Best Smartwatches 2019
FENIX 5x FEATURES
The battery life in smartwatch mode is 12 days and up to 20 hours in GPS mode.
The display resolution is 240 x 240 and will always be visible even in the sun 🙂
The memory or history is 12 GB.
SAMSUNG GEAR S3 CLASSIC
Samsung, the worlds most well-known brand and a giant in electronics, cell phones and gadgets.  Setting up shop in 1938 Samsung has grown from a small Korean business to an international giant.  Hiring over 350 000 employees worldwide, Samsung will always be a powerhouse in cool gadgets.
The Samsung Gear S3 just looks like a regular watch but looking closer you will notice that this beaut holds a lot more surprises. This cool watch is almost like have a cell phone strapped to your wrist.  The watch is available in two leather straps.  The first one in small and the other one in large, you also can use your own bands if you want.- Best Smartwatches 2019
IS THE SAMSUNG GEAR S3 CLASSIC WATERPROOF
The Gear 2 is IP68 rated, this means you can submerge it under water up to 1.5 meters only for 30 minutes.  This does not impress me that much but at least you can have a bath with it without worrying that it will get damaged.  You also get peace of mind that this smartwatch won't get damaged from a little splash or some rain. – Best Smartwatches 2019
IS THE SAMSUNG GEAR S3 CLASSIC COMPATIBLE WITH AN IPHONE
The Gear S3 has an app that can be used to connect to an Apple phone.  Tizen made a 3rd party app for Apple that will work with the Gear S3.  If you compare the app to the original one they are almost the same.  The only difference is that you cannot buy anything on the Tizen made app.  Only the free versions of the watch faces are available to purchase.  The app also has loads of fun and cool games that you can play on the Gear 3.  All notifications from the iPhone come through to the smartwatch which is really great, the only thing I don't like about it is that you cannot reply to messages on the app.  Other than that I am happy to say the app works great and it makes the Gear 3 a device that can be used with the iPhone.
WHAT ARE SAMSUNG GEAR S3 CLASSIC MAIN SPECS
The smartwatch screen size is 1.3 inches
The watch comes with a 360×360 resolution
The RAM  is an impressive 768mb – this is GREAT for a small device
The case is 46mm
The strap is size is 22mm
The battery is 380 mAh
The smartwatch comes with 4GB storage. – Best Smartwatches 2019
WHAT IS THE PRICE OF THE SAMSUNG GEAR S3
The Gear S3 goes for $279 and in my opinion, is a little bit expensive for what you actually get.  My overall opinion of Gear 3 is that it is a nice watch BUT there are much better choices available.
KING WEAR KW88
This little-known company called King Wear, from you, guessed right – China 🙂 always makes me a little skeptical.  As most smartwatches that come from the Chinese homeland are cheap and of really bad quality.  King Wear established in July 2012 seems to be the better of the brands for smartwatches from China.  The KW88 looks great and feels like great quality.  The strap is made of good quality rubber and sits on the arm very well.  The overall design is not bad, when looking at the KW88 it looks like it cost you more than it actually did.  That is until you look a little further 🙂
WHAT IS THE BATTERY LIFE OF THE KW88
I am a bit concerned that after a few hours of use, this smartwatches battery gets very hot.  The battery capacity is 400mAh, which is not bad at all so it is more concerning that the battery only lasts 6 hours and 2 days in standby mode.  Other watches with lower battery capacity last much longer.  So not a very impressive battery life at all, making this one drop down my list of favorites.  This confirming my concern with the Chinese branded smartwatches. – Best Smartwatches 2019
IS THE KINGWEAR KW88 WATERPROOF
No, the KW88 is not waterproof at all. 🙁  I wouldn't even allow a few drops of water the splash on it and cover it up in case of rain. – Best Smartwatches 2019
HOW DO I CONNECT THE KINGWEAR KW88 TO MY iPHONE
Please follow the following step to connect your KW88 to an iPhone:
Select the iOS option on your watch, if you choose android the watch will not connect.
Install the app called WiiWatch on your iPhone and after that scan the QR code from the smartwatches screen.
Paired the watch up to your iPhone via Bluetooth
The open with app and there you go. – Best Smartwatches 2019
WHAT ARE THE KINGWEAR KW88 SPECS
The watch dimension is 47mm x 47 mm x 15.2mm.
The CPU is a Quad Core 1.3Ghz.
The operating system is Android 5.1.
The smartwatch is fully touchscreen.
KW88 has a ram of 512mb and 4gb ram – wow.
The smartwatch has a heart rate sensor.
Bluetooth version 4.0 compatible with IOS and Android.
The battery is a 400mAh high power Polymer.
The watch also supports SMS, GPS, Music, Pedometer, step counts, and distance.
The camera is 2.0 megapixel. – Best Smartwatches 2019
WHAT IS THE PRICE OF THIS SMARTWATCH
This product sells for $145 which is relatively cheap for all the features you will get with it.  The only issue I did not like was that the watches battery is not good at all.  The watch also got really hot when using it and this a little worrying.
LG WATCH SPORT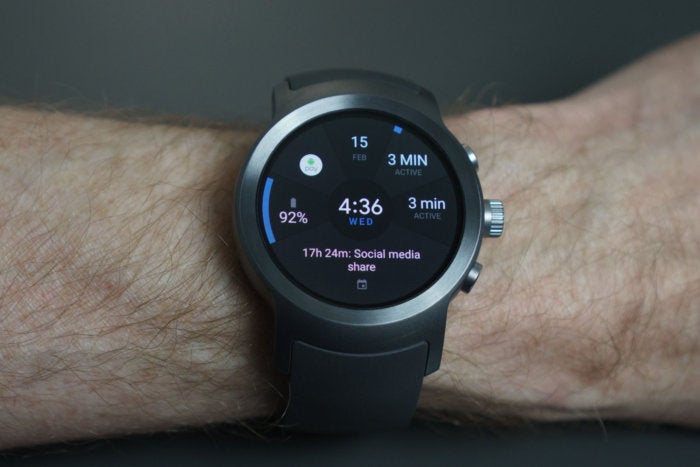 LG founded in 1947 in South Korea is almost a sister company to Samsung.  Their reputation is strong and they dominate the world of Flat Screen Televisions, Computers, Cellphones, Appliances and so much more.  Their brand is trusted and so is the item they sell.  The LG Watch Sport's design is very clean and has almost a modern look to it.  The watch is also very thick and bulky but feels like good quality when holding it in my hand.  The design is not for everyone and the bands are unchangeable which is not great at all.  🙁
IS THE LG WATCH SPORT WATERPROOF
The LG Watch Sport can survive going underwater to a depth of only 1.5 meters.  It will also last in that depth for 30 minutes.  This watch can definitely survive a few splashes and a couple of raindrops. – Best Smartwatches 2019
DOES THE LG WATCH SPORT HAVE GPS – BEST SMARTWATCHES
The LG Watch Sport does have GPS.  The GPS tracking is surprisingly very accurate when connected to the Runkeeper app.
HOW DO YOU CHARGE THE LG WATCH SPORT
The watch charges like any other device.  It plugs into the watch and into a wall socket of some kind.  The watch takes about 1 hour to fully charge.
HOW LONG DOES THE BATTERY LAST – BEST SMARTWATCHES
The battery lasted me 15 hours of normal use with the screen put on.  I then also tested it with the screen off and the battery lasted well over one day.  I am not very impressed with these results as it is very annoying having to charge a watch every day.
HOW LONG IS THE BAND OF THE LG WATCH SPORT
The band is 8 cm and 12 cm long, and it is not possible to change them should the need arise.
WHAT ARE THE MAIN SPECS 
The watch is compatible with GSM / HSPA / LTE
The dimensions are 45.4mm x 51.2mm x 14.2 mm
The main features are Sensors Accelerometer, gyro, proximity, heart rate, barometer
Messaging SMS, Email, IM
The watch does not have a memory card slot
This watch will notify you of any missed calls
Build in pedometer. – BEST SMARTWATCHES
HOW MUCH DOES THIS WATCH COST
This watch sells for a crazy $349, this is the way to much for me as this watch is way too thick and chunky 🙂
GARMIN FORERUNNER 735XT
The Garmin range of watches are just beautiful and they seem to fill that gadget craving of mine.  Their watches are all designed to perfection, the Garmin Forerunner 735XT ticks all those boxes.  The watch can be used as a normal watch or as fitness or smartwatch. The watch is very light as it is mainly made out of plastic which makes it prone to scratches.  The heart rate monitor runs all day and night unless you are swimming, the sensor is found on the back of the watch. A chest strap heart rate monitor is also available for this watch and will be better for those who spend time lifting weights etc.
This watch is mainly used for runners or triathletes. But can also be used very well with hiking, paddle boarding, skiing, and many other outdoor activities. – Best Smartwatches 2019
WHAT DOES THE 735XT TRACK WITH SWIMMING
Distance
Lap Info
Stroke Count and rate
Swolf
Intervals
Structured workouts
WHAT DOES THE 735XT TRACK WITH RUNNING
Distance and route
Lap info
Pace and speed
Cadence
Vertical Oscillation
Ground contact time
Stride length
Vertical ratio
GCT balance.  – BEST SMARTWATCHES
IS THE GARMIN FORERUNNER 735XT WATERPROOF
The Garmin Forerunner 735XT is waterproof up to 50 meters and can stay there for up to 3 hours. – BEST SMARTWATCHES
WHAT IS THE BATTERY LIFE LIKE
Disabling features such as GPS will give you a better life.  The watch can work for up to 16 hours in GPS mode and works up to 8 days on normal use.  This is very impressive and makes this smartwatch stand out from most of the others. – Best Smartwatches 2019
CAN THE SMARTWATCH WORK ON IOS AND ANDROID
The 735XT is fully compatible with the iPhone and Android via the Garmin app.  The app connects up to the watch via Bluetooth. – Best Smartwatches 2019
DOES THIS SMARTWATCH INDICATE ELEVATION
The smartwatch won't tell you the elevation (neither in the training summary), but when you sync it with the app, the app will show you the elevation in a chart and also indicating the min and max.
WHAT IS THE PRICE
The watch sells for about $369, this is a really good price for what you get.  I would definitely recommend this watch for any active outdoors type of person.  Or for people who love the style and great quality, this watch will fall in your category.  This is all in all a GREAT device and I will be adding it to my list of presents to give for 2018. – Best Smartwatches 2019
FITBIT VERSA
The Fitbit Versa is a very nice little watch that fits so nicely on my wrist.  The very first thing that I noticed was that this watch was very light and comfortable to wear.  This watch could stay on my wrist all day long without me wanting to take it off.  This is the perfect watch to wear for really long marathon runs and would not irritate my wrist.- Best Smartwatches 2019
The smartwatches heart rate monitor work very well and are very accurate.  The accuracy is so good that it can even tell you when you are starting to get sick as it can pick up changes in your heart rate.
The only issue I found was that the Versa was that the smartwatch did not stay connected to Bluetooth for long enough to sync to my iPhone app.  The only thing that eventually worked was to reset the watch and re-install the app to my phone.  After doing this it seemed to connect perfectly.  I have heard from others that this seems to be an issue especially with this smartwatch and if the watch does not connect Fitbit will ask you to return the product for a replacement. – Best Smartwatches 2019
IS THE FITBIT VERSA WATERPROOF
The Fitbit Versa is water resistant up to 50 meters, this means you can shower, bath, swim or paddle ski with it on.  I don't recommend deep sea diving with it on though, even if you don't go past the 50-meter mark.- Best Smartwatches 2019
HOW DOES THE VERSA DETECT HEART RATE
The smartwatch reflects LED lights on your skin that picks up small changes on the skin.  The small movements then go through an algorithm that will then work out what your heart rate is.
CAN YOU ANSWER OR MAKE CALLS ON THE FITBIT VERSA
The Fitbit Versa only allows you to answer or decline calls, there is no available feature for phoning 🙁
HOW DO I TEXT ON THE VERSA
The Versa is not able to text at the moment.  There might be new functions released by Fitbit later this year that could include a texting function. – BEST SMARTWATCHES
WILL THE FITBIT VERSA BE ABLE TO SHOW DEXCOM CONTINUOUS GLUCOSE RESULT
In October last year, Fitbit said they have partnered with Dexcom.  This helping them make this feature available sometime in 2018.  We so far have not heard anything further and hopefully, they will make this available soon.  We will keep an ear and eye out on this one. – Best Smartwatches 2019
WHAT ARE THE MAIN FEATURES
This smartwatch will track all your daily activities like your heart rate and when you sleep
You can keep all your favorite music stored directly on the watch
You can also track your running or swimming records that will connect up to GPS for precise pace and distance analysis.- Best Smartwatches 2019
WHAT  IS THE PRICE – BEST SMARTWATCHES
The smartwatch sells for $198 on Amazon, this is really not bad for all the features that come with it.  What makes this stand out more is that it is very comfortable to wear and the overall quality is really good.
HUAWEI WATCH 2 LTE
This smartwatch is very chunky but it is very comfortable to wear and is very durable.  The watch also survives the odd scratch and bump without showing any scratches.  The screen is also very big and easy to read but at an angle, while driving does not show that great.  The watch band feels like really cheap plastic and does not feel too great on my wrist. I would suggest purchasing a better and more comfortable strap if you insist on getting this one.
The smartwatch has loads of fitness features but I would not want to run a marathon with it on my wrist.  It just feels too big and uncomfortable.  This smartwatch is less of an accessory to your phone but more of a stand-alone product. – Best Smartwatches 2019
WHAT IS THE BATTERY LIFE LIKE
Third party watch faces draining the battery more for some reason.  The battery should last 2 full days on one charge which is really not too bad.  Also running any apps will help drain the watches battery quicker. – BEST SMARTWATCHES
IS HUAWEI WATCH 2 LTE WATERPROOF
This smartwatch has a waterproof rating of I68, which means the smartwatch can be submerged underwater to a depth 1.5 meters for up to 30 minutes.
IS THE WATCH COMPATIBLE WITH iPHONE/IOS
The smartwatch can be used with any iOS 9 or later.  The app can be downloaded from the app store, however not all functions will be available. The fitness data cannot be synced to your phone and the mobile payments are also not supported. – Best Smartwatches 2019
IS THIS WATCH COMPATIBLE WITH THE NORMAL WATCH BANDS?
Any 18mm band will fit the smartwatch. I actually do recommend you purchase a better band as the one that comes with the smartwatch is of really BAD quality. – Best Smartwatches 2019
CAN YOU RECEIVE CALLS AND REPLY TO MESSAGES?
If the smartwatch has the latest update you can take a phone call and reply to messages with your voice. 🙂
WHAT IS THE PRICE?
This item goes for $228 which is great value for money.  I actually totally enjoyed this watch, the only downside is the bad quality strap that comes with it and it is a little thick.  But compared to smartwatches going for the same price it really is not too bad. – Best Smartwatches 2019
FOSSIL GEN 3 SMARTWATCH – Q EXPLORIST STAINLESS STEEL
This stylish smartwatch is the reason they put smart in a smartwatch, this watch just feels like money and quality.  You will have to get used to the heaviness of the watch on your wrist.  The smartwatch will need android 4.3 and above or iOS 9 and above and it will only work on the iPhone 5 and above.  To connect to the internet you will need a wifi signal or you can also use your mobile data.  The smartwatch also gets all your social media notifications right on the screen and you can also browse the internet or maps from your screen. – Best Smartwatches 2019
The smartwatch also comes with an activity tracker that connects to the Google fit app.  With the fitness app, you can track your units of calories burned or steps are taken each day.  I don't think it is wise to use this watch on any long trail run or marathon, as it is very bulky and would get uncomfortable in no time.
WHAT ARE THE SPECS
The smartwatch is powered by Qualcomm Snapdragon Wear 2100 Processor
The RAM is 512 Mb
The smartwatch will be notified on texts, call and updates
Has a multiple time zones to keep track of all your times
Wireless charging available
Activity tracker
Alarm clock
Control your watch with your voice
Automatic phone syncing
4Gb storage
Battery life is all day on stand use.- Best Smartwatches 2019
IS THE FOSSIL GEN 3 SMARTWATCH WATERPROOF
The Gen 3 Smartwatch has a IP67 rating which means it is fully protected from dust and can still work if submerged in 1 meter or water for 30 minutes. – Best Smartwatches 2019
WHAT IS THE DISTANCE FROM LUG TO LUG ON THE FOSSIL GEN 3
The screen size is 1.38 inches.
WHAT IS THE PRICE?
This smartwatch sells for only $199, this is value for money and it does come in as one of my favorites 🙂
APPLE WATCH SERIES 3
The Apple Series 3 is the most revolutionary Apple smartwatch yet.  You can easily go out and leave your phone at home while still staying connected to your messages and phone calls.  The speaker is also a lot louder than it predecessor so taking calls outside is so much easier.  Wireless earphones or Airpods can also be purchased separately but are very cool as you can listen to music easily while running or doing whatever. – Best Smartwatches 2019
LETS GO STRAIGHT TO THE SPECS
The watch is very fast with a dual-core s3 processor
Sisi is also now available and is really fast
The watch comes with a built-in GPS
Water resistant for up to 50 meters
Heart rate monitor
IS THE APPLE SERIES 3 SMARTWATCH COMPATIBLE WITH iPHONE 5S
It requires iOS11 and above, the 5s may not work.
CAN APPLE WATCH PAIR WITH ANDROID
No, the Apple Series 3 Smartwatch cannot pair to an Android.  Apple does not allow the information from the smartwatch to be shared with any other device besides Apple iOS. – Best Smartwatches 2019
CAN YOU CHARGE AN iPHONE USING THE APPLE WATCH SERIES 3 CHARGER
No, unfortunately, this does not work.  It seems you will need your normal iPhone charger to do this for you.  This is probably a money making idea from Apple.  Apple wants to make as much money as possible, so not having the chargers work on all the Apple items makes sense then 🙂 – Best Smartwatches 2019
IS IT POSSIBLE TO WATCH YOUTUBE AND MOVIES WITH THE AIRPODS CONNECTED
Yes, all audio from the smartwatch or iPhone will go through the earphones. – BEST SMARTWATCHES
CAN MUSIC FROM THE iPHONE BE PLAYED AND CONTROLLED BY THE APPLE WATCH SERIES 3
Yes, this is a very cool feature, you can play all your music from your smartwatch.  The smartwatch can also be connected to your Airpods.
DOES THE APPLE WATCH SERIES 3 WORK WITH STRAIGHT TALK
The Series 3 does work with Straight Talk at the moment.  Straight talk has said that if enough people request this feature they will add it.
WILL THE SERIES 3 SMARTWATCH WORK WITHOUT A CELLULAR SERVICE
Yes, if your cellular provider offers a plan for the iPhone and Series 3 smartwatch.  However, most features can still work without having the cellular feature added. – Best Smartwatches 2019
WHAT IS THE PRICE OF THE SERIES 3
The Apple Watch Series 3 sells for $359 on Amazon.  This price is fair for the number of great features this smartwatch offers. – Best Smartwatches 2019
THE BEST SMARTWATCH OF 2018
So as you can see the smartwatches above are mostly very cool and they all have such GREAT features.  Below is a list of features and which watch is the best from the list above:
Best battery life: This will go to the Garmin Fenix 5 Range – the battery typically last up to 2 weeks in normal mode
Top fitness watch: This one goes to the Garmin Forerunner 735XT as it offers different features such as detailed tracking for swimming or running.- Best Smartwatches 2019
The best waterproof watch: The Garmin Fenix 5 can go down to a depth of 100 meters without getting damage :0
THE BEST SMARTWATCH OF 2018
GARMIN FORERUNNER 735XT 
My winner for 2019 will have to be the Garmin Forerunner 736XT.  This watch is just full of the best features available.  The 735XT design is awesome and it just sits perfectly on my wrist like it was supposed to be there.  The price is a little high at $369 but is totally worth it.  What stood out the most was the attention to details with regards to the fitness tracking, GPS and the layout of the operating system.  As I said before this watch just ticks all the boxes for a GREAT smartwatch. – Best Smartwatches 2019
Runner-up
The Apple Watch Series 3 was the close runner-up to the Garmin Forerunner 735XT.  The watch took the second spot because it can only be used with an Apple iPhone.  The Apple Watch Series 3 is also packed with all the GREAT features you would expect from Apple.  If this smartwatch could be used with any other smartphones this would have been a VERY close call. – Best Smartwatches 2019
Please take some time to read up the review of the very popular Q50 smartwatch.  This little tracking watching can do wonders for child protection and help you with peace of mind.
Ticwatch E review.  The Tikwatch E comes in a great colourful tin that made it even more exciting to open.  The smartwatch was very tightly packaged and came with a charger cable, the smartwatch and an instruction book.
If you like this watch you can purchase it here on Amazon – Tkiwatch E
The Ticwatch E looks very basic when it comes to smartwatches as it has no shinny bezel and a black face.  It is also not exactly slim and it is made of a polycarbonate shell and overall it is very plain Jane.  The smartwatch is very comfortable to wear and the strap is customizable with a 20mm watch strap, which is a good thing.  There is also a single button on the left of the watch which acts as the home button.  This smartwatch is very simple, but don't think that plain means bad quality as that will be wrong thinking.  On the back of the watch is a heart rate sensor.
Animations and navigating the UI is very smooth and the graphics are all great and there was no lag at all.  Almost all the interactions on the Ticwatch E will be done via the touch screen.  The user experience is all very clean and it is very easy to navigate through all the features. You will almost forget that you have a smartwatch on and this watch does not stand out or look out of place.  The smartwatch can almost be worn with any outfit as black suites most other colours.  If you want to change the colours you can easily change the strap to something else.  The Ticwatch E is very light weight and does not weigh your arm down at all making this a good watch to use when running or gyming.
CONNECTING THE TICWATCH E AND THE MOBILE ANDROID APP – Ticwatch E Review
To use the Ticwatch to its full you will need to download the Ticwatch E app from Playstore.  To connect please go through the following steps:
Search for Android Wear APP.
Download the APP.
Once the APP is downloaded please open the APP and click on add a new watch on the top left-hand side of the screen.
The APP will then run and search for a bluetooth connectivity from the watch.
On the Ticwatch you will see that a message appears saying: In android wear, connect to this watch name: Ticwatch E0980.
Select the name on your android phone that reflects the same smartwatch model.
The Android APP will say that it is connecting.
Once you are connected please add your Google info onto your phone to connect your Google information.
AFTER SETTING UP THE APP – Ticwatch E Review
When the APP is the setup you will notice that you will have a new smartwatch face that appears.  You can then choose from a number of different smartwatch faces from your android phone.  On the APP there are a number of different settings that you can change like silencing the phone while connected to the smartwatch.
Other settings and features include:
Always on screen (on/off) – if you turn this on you will see a watch face that always stays one.  Looks similar to a regular watch.
Tilt to wake up (on/off) – this lights up the screen once the smartwatch is tilted in any direction.
Accounts – this is where the Google accounts are.
Watch battery – this gets information from the smartwatch regarding the usage of the battery.
Watch storage – this will show you all the smartwatch's memory storage available and usage.  The storage available is about 2.34 GB
Watch app data usage- this will show you sizes of each APP available on the smartwatch.
Resync APPS – this will unpair all the APPS from your smartwatch.  This will basically do a factory reset of the watch back to the original condition as purchased.
Calendar – this is where all your calendars will be available to view.
Block APPS – this is where you can block your smartwatch from using certain APP for whatever reason.
Privacy and personal date – this is where you can sync your cloud to your smartwatch.
Google assistant
THE TICWATCH E SETTINGS – Ticwatch E Review
Once you have setup your smartwatch to your android phone you will be directed by the smartwatch to swipe up to get started.  This will go through all the main features of the smartwatch.  Swiping down on the screen will take you to the settings of the Ticwatch E smartwatch.  Under these settings, you can silent your smartwatch, adjust the brightness.  You can enable a do not disturb and or you can go through to the main settings of the smartwatch.  The overall setting includes:
Display – here you can change the smartwatch face; adjust the brightness; change the font size or you can enable always on screen.
Sound and notifications – here you can adjust the media volume; alarm volume; ringtone volume.  Also, vibrate for calls; watch ringtones; notifications preview.
THE TICWATCH APPS – Ticwatch E Review
Contacts – this APP pulls all your contacts from your Google account.
Find my phone – this will help you find your cell phone if you have misplaced it.
Fit – Google fit, here you can choose the different types of exercises.  All this info is linked to your Google fitness.
Fit Workout
Fitness – here you can do different runs, walks or cycling via GPS or not.  This will give you heart rate, your pace and other information.  Information from this app does not transfer to the phone.
Flashlight – this will make your screen come a light and will act as a light.
Health – this is an activity of all you have done like your steps, distance, exercise minutes, active hours -this APP will promptly remind you to get up and do stuff.
Heart rate – this APP measures your heart rate from sensors at the back of the smartwatch.
Phone – this is if you going to make calls from your smartwatch.
Play store – this is the same play store as the normal one but is designed for a smartwatch.
Reminders – here you can set up reminders
Step ranking – this shows your steps rankings for each day and compares them.
Stopwatch
Timer
Google translate
Weather
Google – your feed
TICWATCH E REMOVABLE BANDS – Ticwatch E Review
On previous Ticwatches like the Ticwatch 2, the watch bands have been unchangeable because of the GPS chip that was in them.  The Ticwatch E allows you to change the bands and even take them off making the Ticwatch E a pocket watch.  The bandwidth is 19.6mm in width and while we measuring, the thickness of the watch is 13.5mm.
IS THE TICWATCH E WATERPROOF – Ticwatch E Review
The Ticwatch E has a water-resistant rating of IP67 which means it can go underwater up to 1 meter or 3.3 feet for 30 minutes.
HOW MUCH IS THE TICWATCH E – Ticwatch E Review
The Ticwatch E costs $159.99 on Amazon, this is really a good price especially for all the GREAT apps and features this smartwatch has.
IN CONCLUSION – Ticwatch E Review
The Ticwatch 2 is an amazing smartwatch.  This watch comes with all the features and whistles you will ever need in a smartwatch.  The design is great, the software that runs on the smartwatch works very well.  I would highly recommend this smartwatch for you or if you giving it to someone as a present.  This smartwatch will even qualify as a fitness watch as it has loads of different fitness features that all connects up to Google fitness.  There is nothing that feels cheap about this and would rank up there with my best.
Gt08 Smartwatch Review and Unboxing – and Is This Watch Worth $20?
GT08 SMARTWATCH REVIEW.  If you are a fan of the Apple Series 1-3 watches then this watch is maybe something that might interest you.  The GT08 Smartwatch is a really cheap watch that comes with loads of very interesting features that I will go into later in this article.  The watch can be purchased on Amazon for about $20 or from The Men's Den in South Africa for around R230.
The Gt08 Smartwatch come in a really nice expensive looking box. The very first impression is actually not bad.  Inside the box you get your smartwatch, user manual and charger cable.
HOW DOES IT FEEL ON MY WRIST – GT08 SMARTWATCH REVIEW
The GT08 Smartwatch feels really good and does not feel heavy on uncomfortable on my wrist in any way.  The only problem I have is trying the put the smartwatch on.  The strap has a little button connector that connects up the straps.  The connector button thingy is really difficult to clip in and that makes it not so easy to put on. After clipping the watch on my wrist I found that one of the straps started coming a bit loose near the face.  If this watch costed more I would have been disappointed but for $20 I will forgive and forget 🙂
GETTING STARTED – GT08 SMARTWATCH REVIEW
The smartwatch does come with a little bit of battery life when first purchasing it, this will run out very quickly.  You will therefore need to charge the smartwatch up for a full two hours before using it – this is also as per the user guide.
We have three different ways to setup the smartwatch.  This is all depending on what kind of phone you have or if you want a stand alone smartwatch.
SETTING UP THE GT08 SMARTWATCH TO YOUR ANDROID PHONE
Activate your bluetooth on your android phone
Go to your smartwatch and go to menu and look for the bluetooth icon.
Click on the bluetooth icon and on the bottom left click the on button.
Go back to the menu on the smartwatch and click on the bluetooth icon next to the 3.
Click on search for new device.
On your android phone click on scan under bluetooth.
Go back to your smartwatch and click pair.
Click on confirm on your android phone.
SETTING UP THE GT08 SMARTWATCH TO YOUR APPLE iPHONE 5,6 OR 7
GT08 SMARTWATCH SPECS – GT08 SMARTWATCH REVIEW
Scree Size: 1.54″
Display: LCD
Resolution: 240 x 240 px
Touch screen
Operating system:Proprietary OS
Processor: CPU MTK6261A
Memory: Internal: 64 MB; RAM: 32 GB
Bluetooth version 3.0
Battery 350 mAh – Normal use is 2 days
Sensors,: G-sensor, pedometer
Media: Audio – music and sound recorder; radio; speaker; microphone
Camera 0.08 MP

Dial, hands-free, phone records, phone book, alarm clock, calendar, stopwatch. Social apps support includes QQ, WeChat, Facebook, Twitter, also supports SMS push notification
IS THE GT08 SMARTWATCH WATERPROOF – GT08 SMARTWATCH REVIEW
The smartwatch is not waterproof at all.  You should not let any water get on the screen or let this watch lie around the bathroom or shower.  Any water will make this watch break.
DOES THIS SMARTWATCH WORK WITH THE GALAXY S9 – GT08 SMARTWATCH REVIEW
Yes, this smartwatch support android 4.0 or above, so it will work with galaxy s9.
CAN I MAKE A CALL FROM THE WATCH – GT08 SMARTWATCH REVIEW
Yes this function work with all 3 different options available with the watch.  You can call from your Android, Apple iPhone or call directly from the smartwatch.
CAN YOU PLAY MUSIC FROM YOUR MICRO SD CARD ONE PLACED IN THE GT08 SMARTWATCH
No, you can only play music once the smartwatch is connect to your phone.
WHAT IS THE BLUETOOTH RANGE – GT08 SMARTWATCH REVIEW
The range is about 5 meters.
WHAT WRIST SIZES DOES THIS SMARTWATCH FIT – GT08 SMARTWATCH REVIEW
The strap is adjustable between 6.7-8.7 inches.
WILL THE GT08 SMARTWATCH WORK ON THE iPHONE 8
Yes it will work on the iPhone 8 but only some features will work.  Bluetooth calls, contact syncing and music playing will work.
GT08 SMART WATCH PRICE – GT08 SMARTWATCH REVIEW
The GT08 Smartwatch goes for $14 on Amazon but for all the features that price is not bad at all.  Also if you are a gadget person you will enjoy checking this one out.
GT08 SMARTWATCH VS DZ09
The GT08 and the DZ09 smartwatch has almost the same features and specs.  The operating system is exactly the same and just the design is the obvious main difference as you can see below.  The one the left is the GT08 and the other one is the DZ09.
The most noticeable difference between these two smartwatches would be where the camera is.  The Gt08's camera is just above the screen, you can see it in the above picture.  The DZ09's camera is slanted in the front of the smartwatch.  We do find that this feature is a little weird, it is almost a little spy camera.  I have tried to figure out as to why the designer would have wanted the camera in that  position, maybe it can take better pictures or something at an angle. 🙂
OTHER DIFFERENCES BETWEEN THE DZ09 AND GT08
The GT08 has an activity tracker.
The GT08's strap is made of silicon and the DZ09's strap is made of rubber.
The GT08 can connect with Android and iOS, the DZ09 can only connect to android.
GT08 does have Facebook, Twitter and alarm notifications, the DZ09 does not.
The Gt08 is a slightly better choice if you are an iPhone owner or if you like the design of the Apple Series 1-3 watches.  The price on most platforms for these two watches are almost the same.
CONCLUSION
The GT08 Smartwatch comes with a great number of features but it still has that cheap feel to it.  The battery sometimes last only a few hours if used a lot and the calls are not always 100% clear.  The operating system is functional with nice features such as Facebook and Whatsapp.  The pedometer is also not 100% accurate, sometimes standing still counts a lot of steps.
The overall design and feel is functional and it could work for someone who is not fussy about brands etc.  The watch is also a little thick and chunky however the watch button feels just like the Apple's one.  The actual icons that show on the face are attractive and also looks somewhat similar to Apple watches.
I would actually recommend that you give this little watch a try.  You will enjoy playing around with it.  I really enjoyed the fact that you can make and receive calls all on your wrist.  My best feature would be that the GT08 can also be used as a cellphone and it has almost all the features a cellphone might have.
Wearabledeviceblog.com is a participant in the Amazon Services Associates Program, an affiliate advertising program designed to provide a means for us to earn fees by linking to Amazon.com and affiliated sites.